Favorite club tracks 1985-2020
The exhibition "MILESTONES – Favorite Club Tracks 1985–2020" transfers the energy, power and creativity of music into a museum that has been transformed into a club. Your visit guides you through a musical journey back in time to selected house, trance and techno highlights: Keeping still might not be so easy here. MOMEM shows and "plays" a selection of the most important titles in the field of electronic music since 1985. The collection is based on personal charts by international DJs and techno and house publications. The result is an anthology of music with trend-setting works from labels such as WARP, Underground Resistance, R&S or TRAX… just to name a few.
Photographers from around the world emphasize the vibe of the exhibition through their lense. Their work depicts people dancing from the early days of the rave, house and techno movement. The photos are shown on oversized screens and reflect the subject areas of hedonism, passion, energy and the nightlife spirit.
In cooperation with the SMEM (Swiss Museum and Center for Electronic Music) a small selection of "Milestones" music production devices will also be on display. Discover sought-after drum machines, synthesizers and samplers that influenced the emergence and development of electronic music. The exhibition aims to make the uniqueness of electronic music tangible for all types of events. In addition to the installation, there will be a supporting program with panels, workshops and film screenings again.
#milestones #favorites #pioneers #legends #classics #sorted #heroes #innovators #machines #synthesizer #drummachines #techno #house #trance #electronicmusic #dance #people #fromallovertheworld
The great grand opening celebration of MOMEM Frankfurt. Thank you to everybody involved and a very special thanx to our partners and supporters.
In the past three decades
"Come on, dance with me" (the Age of Love)
Starting in the late 1980s electronic music has emerged as a driving force in club music and modern life. Electronic music connects the past, the present and the future like no other cultural movement and constantly reinvents itself. The achievements of modern electronic music influenced the music industry and music production as well as art, design, fashion and people's lifestyle. Since the beginning of this development a rich and diverse culture has established itself far beyond the musical content. Today electronic music unifies people all around the world – connecting, dancing and loving each other because of a peaceful human technology and art form. We are here to share parts of the history and save stories of this movement and phenomenon with you.
"In House and dance music alike you can trace sounds and energy as far back as the native African drums and instruments to even Soul, Rock & Roll, Classical and Funk. And if your are afraid of your past, you don't stand a chance to make it in the future" (Chez Damier)
Fela Kuti from Lagos is known to be one of the inventors of the Afrobeat and established the idea of repetitive dance music. Earl Young was the drummer of the most epic Philadelphia Sound recordings. As one of the first mentioned artists he had the idea of the four to the floor" beat kicking it in with his bass drum. Years later club DJs like Ron Hardy and Frankie Knuckles came up with the idea of a new dance music called House merging disco, wave and early electronic music creating mix friendly club tunes. To many Frankie Knuckles is regarded as the Godfather of House".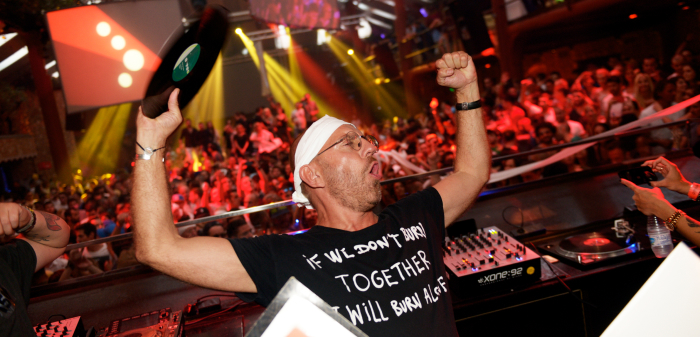 THE GRAND OPENING OF MOMEM WITH SVEN VÄTH
Finally we dance all together to celebrate the grand opening of the MOMEM to the sounds of the one and only Sven Väth. The Frankfurt Hauptwache will change oneself to a huge dancefloor and nobody can stop us on this very special night.

Photo Credit: PHRANK
MOMEM is about Electronic Music
"Es wird immer weiter gehen – Musik als Träger von Ideen" (Kraftwerk)
MOMEM focus on modern electronic music that has shaped our cultural history and still keeps on doing so. MOMEM will be a place to explore, conserve and experience the historical dimensions and influences of electronic music. We will take you on a journey from the beginning to the future. A place of continuous movement and transformation, turning from a museum into a stage into a bar into an academy and back again. A vital environment in the heart of Frankfurt and a museum that encourages everybody to participate and interact. 
A platform for newcomers and veterans,
for artists and fans, for lovers of music and lovers of history, for people from Frankfurt and for people from everywhere.